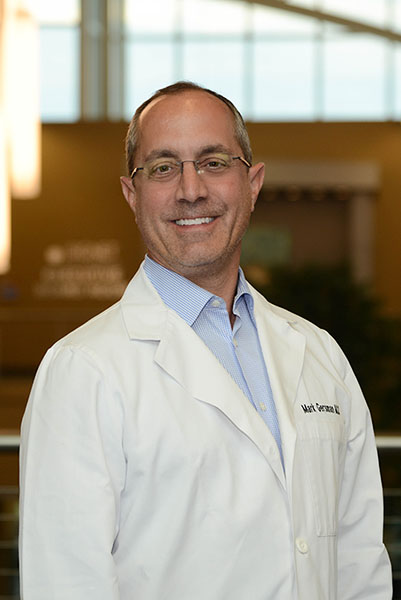 Mark Gersman, MD is a retinal specialist from an independent group, Vitreo-Retinal Consultants, Inc. He is not actually a member of The Eye MD's team; rather, he is an independent physician who travels to our office to provide retinal consultations. This service is provided for the convenience of our patients, limiting the need for patient travel to receive specialist care.
He has a special interest in Macular Degeneration, Diabetic Eye Disease and treatment of Macular Degeneration.  We are very pleased to have the convenience of retinal consultants available for our patients.
Mark A. Gersman, M.D. is a board-certified ophthalmologist, and is fellowship-trained in diseases and surgery of the vitreous and retina.  He completed his residency in ophthalmology at The Ohio State University where he also earned honors in both undergraduate and medical school. He performed his internship at Riverside Methodist Hospital in Columbus, Ohio, and received his subspecialty training in vitreo-retinal disorders at the Kresge Eye Institute in Detroit, Michigan. Dr. Gersman joined Vitreo-Retinal Consultants in 1994 after completing his fellowship training.
Dr. Gersman has been actively involved in the research of vitreo-retinal disorders, including age-related macular degeneration, retinopathy of prematurity, and retinal vasculitis. He has made presentations on vitreo-retinal disorders at many seminars for healthcare professionals and has been published in several surgical and ophthalmology journals. He is currently an Assistant Clinical Professor of Surgery at Northeastern Ohio University School of Medicine.
Dr. Gersman is originally from Vienna, WV and has been seeing patients in our office since 2001.