Laser Eyelid Surgery
Changes in your skin
When we are born, our skin is smooth and soft.  As the years pass, our skin tone changes.  We begin to notice that the skin is loose and wrinkles begin to form.  In the eyelid area, this causes the appearance of "tired eyes" or "droopy eyelids".  Many people look in the mirror and say "I feel twenty years younger than I look".
Laser Eyelid Surgery can address many of the problems caused by early aging.   There are several new techniques available for freshening the area around your eyes.  Laser Eyelid Surgery (blepharoplasty) can remove excess skin, remove bulging fatty pouches below the eyes, and erase some of the wrinkles that have formed.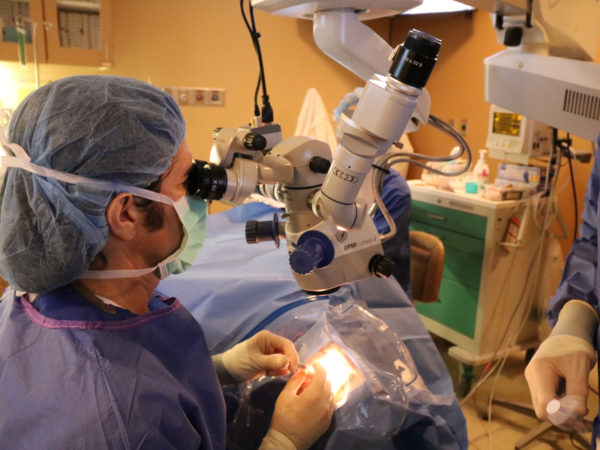 What procedures are available?
Technology changes quickly, and the doctors at The Eye MDs are dedicated to bringing the latest, safest techniques to the Ohio Valley.  The following techniques are a few of the possibilities available to you.
Laser Blepharoplasty – Removal of excess skin and fat from the eyelids using the laser.  The laser beam makes the incision and seals the blood vessels for a quicker recovery with less bruising.  The incisions are closed with tiny stitches that are removed in about five days. Dr. Laser is the only surgeon in our region that offers laser eyelid surgery. Laser eyelid surgery is done locally at our surgery canter, The Physicians Outpatient Surgery Center, In Belpre, OH.
Talking with your doctor
During your visit to The Eye MDs, please mention to your doctor that you may be interested in Laser Eyelid Surgery.  The doctor can discuss the techniques that may be helpful.
How long is the recovery time?
Recovery time can vary based on your medical health and age.  Patients who choose Laser Blepharoplasty can usually return to work after one week without feeling excessively swollen.

Financing
Many eye lid surgeries are covered by Medicare and private insurance, particularly if the eye lid problem affects the vision. Yet some services are considered cosmetic and not often covered (e.g., Botox, Juvederm injections, lower lid surgery).  For cosmetic procedures that are not covered by insurance, you can use your Health Care Savings Account (HSA) or Flex Spending Account to help cover the cost; this saves you money by using pretax dollars.  Additionally, financing can often be arranged for those who qualify by Care Credit. Contact us today to learn more about payment options.
Laser eyelid surgery. No blades and less bruising.

We provide the only laser eyelid surgery in our region.

Insurance may pay for eyelid surgery if it interferes with your vision.