All-Laser LASIK Surgery
LASIK is an abbreviation for Laser in situ keratomileusis. LASIK surgery is done to correct nearsightedness, farsightedness or astigmatism.
The Eye MDs use the latest technology for LASIK. We exclusively offer All-Laser LASIK surgery in our region; no blades are used.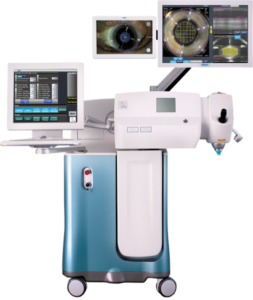 Our pre-operative measurments start with a high tech corneal analysis in the office using a Galelei G4 corneal analyzer to make sure the cornea is healthy and is thick enough for the individual's LASIK procedure. Before the surgery, we then perform a iDESIGN wavefront scan of each eye. The iDESIGN wavefront treatments use a computer generated analysis of the entire vision system to create a custom treatment that is very precise and specific to the eye, analogous to the specificity of an individual's fingerprint. Wavefront treatments can fix optical problems that go beyond what we can fix with glasses or contacts. These scans also enable iris recognition to adjust for eye rotation during treatment. The laser also tracks the pupil for any eye movement, making adjstements to even the smallest movements during treatment.
In the past, a medical device with a vibrating metal blade was used to make the flap. With All-Laser LASIK, a femtosecond laser is used to make a thin flap on the cornea, adding a high degree of precsion. The ablilty to precisely control the flap thickness and size enables more patients to be candidates for treatment.
After the thin flaps are made, the VISX Star S4 IR Excimer laser is used to reshape the surface of the eye without creating heat. This change in the surface curvature affects how light is focused onto the retina. Standard LASIK treatments are based on the refraction obtained in the office and are only used if a good wavefront scan is not obtained or the cornea is too thin for a custom treatment.
Thus, two different high technology lasers are used in All-LASER LASIK: the LenSx femtosecond laser is used to make a thin flap (image below and on the right) and the VISX Excimer laser is used to reshape the cornea to obtain the desired custom change in vision (image below and on the left).
Not all patients are candidates for LASIK surgery. Patients who are interested in Laser Vision Correction should have a consultation with Dr. David George. He will obtain measurements of the cornea's shape and thickness, as well as perform a complete eye examination to determine if you are a LASIK candidate. Some patients, for example those with very thin corneas, may be better candidates for a surface treatment like photorefractive keratectomy (PRK).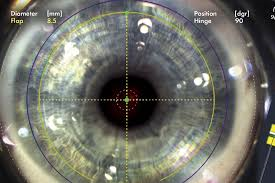 Customized Wavefront Treatments
Your vision is unique – as personal as your fingerprint or your DNA. iDESIGN LASIK uses a special analyzer (shown below) to produce a sophisticated map of your vision, called a Wavefront. This wavefront map is an extraordinarily precise way of measuring the optics of your eye so as to be able to find even the smallest levels of optical aberration and distortion that can blur your vision.
This personalized eye data is transferred electronically to the laser to help the surgeon develop a customized LASIK treatment plan for each patient. Glasses and contacts are actually limited in their ability to correct vision and thousands of individuals have the same prescription. With the iDESIGN procedure, no two "prescriptions" are identical.
This wavefront technology is groundbreaking because it has the potential to improve not only how much you can see, visual acuity measured by the standard 20/20 eye chart, but also how well you can see, in terms of contrast sensitivity and fine detail.
This precise level of measurement and treatment can enable individuals to achieve the full potential of their vision.
Financing
LASIK is not generally covered by insurance as it is considered cosmetic surgery. You can use your Flex Spending Account to help cover the additional cost of LASIK; this saves you money by using pretax dollars. Financing can often be arranged for those who qualify by Care Credit. Contact us today to learn more about payment options.
All Laser Lasik - No blades are used.

Wavefront Treatments are uniquely customized.

Payment plans available for qualified individuals through Care Credit.